BUNNYRABBIT.com
STAINED GLASS PLATES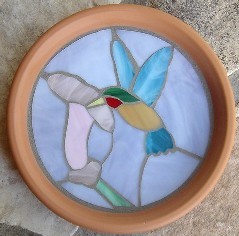 Stained Glass designs set onto Red Clay Plates.
Same beauty as stained glass stepping stones
but lighter weight for indoor use.
You can place them in a stand, hang them on the wall or
we have one customer that puts felt on the bottom and uses it for a coaster!
Plates measure 10 inches in diameter shipping weight - 5 lbs.