goto bunnyrabbit.com Info Articles Index

HOW DO YOU BUILD A RABBIT HUTCH?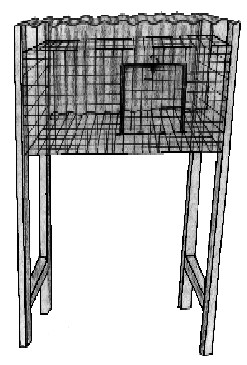 Actually, you are building a mini-barn whenever constructing an outside hutch. Many factors such as size & weight of the rabbit, location and type of building materials should be considered before starting the project. Using some well-designed plans and visiting a farm to see what is working for another breeder may help answer a lot of your important questions. We will be happy to show you our hutches at BUNNYRABBIT.com.
If the hutch is over sized, this may be the first problem. Too tall or too deep to reach the rabbit is problem number 2. These are factors that require some thought. The type of building materials such as lumber, tin, wire and plywood are important cost and weight considerations. The location of the hutch is a decision, which needs to be thought out in advance so that weather, shade, obstructing a path or view and easy accessibility should all be planned ahead of time.
A 24"x30"x18" high cage would be sufficient for most average size rabbits. This size will keep them comfortable. Use good, strong galvanized welded wire to help keep the rabbit in and predators out. The legs and framing should be made from strong materials to keep the cage up and all the parts together. Galvanized metal studs work well because of strength plus not rotting and not getting eaten by the rabbit like wood. The roof should be weatherproof: either shingles or metal. Plywood won't last very long if left uncovered and shingles can be very heavy on large roofs. The overall size and weight of the hutch determines how easily it can be moved.
Start building from the inside. Put the wire cage together, leaving the top off. Then attach the legs and supports. Keep the cage height at a level comfortable for the handler. Now attach the top of the cage. Add on upper framing and the roof.
When using wood for legs and supports, be careful so that the rabbit can't eat the wood. You can cover the wood with small wire. Also, be careful of paints or varnishes that may cause rabbits to become ill or die.
Ask questions, read books, visit rabbit breeders and experiment as much as possible before starting your hutch. You can email us at bunnies@bunnyrabbit.com
Good luck, from BUNNYRABBIT.com