goto bunnyrabbit.com Info Articles Index

click here to order water bottles or crocks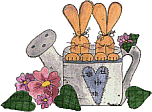 I Need A Water Bottle!
What's in a bottle? Anywhere from 5 ounces to 64 ounces of good clean water! We carry several brands and sizes of dependable water bottles. Water systems, which supply a consistent flow to each hole in your barn, are also available. Our crocks, cups and bowls can also do the job for you and your rabbits needs.
The hang on water bottles come in many sizes that can fit cages and carriers. Lixit Regular bottles are available in 8 oz, 16 oz & 32 oz. capacities. The Lixit is also available with a wide mouth opening plus a 45-degree angle on the spout-for easier cleaning. Lixit 45 come in 8 oz, 16 oz, 32 oz & 64 oz sizes. We carry tube and cap replacements for both of these bottles.
Topfill bottles are very popular because of easier filling without having to remove the bottles from their cages. The screw type lids are simple and the bottle is easily attached to cages or carriers.
We have Lixit Quick Fill bottles with a stainless steel valve. These have nice thick, heavy bottles! They com in 10 oz, 20 oz or 33 oz.
We have the MJ and Nivek bottles that are constructed with an automatic water system valve. We have MJ topfill bottles in 8 oz, 16oz and 32 oz. The 32 ounce round come with a regular valve or for a few dollars more you get an Edstrom variflo valve on it.
We have Nivek topfill bottles in 5 oz, 12 oz and 32 oz.
We also have the Lixit flip top bottles available in 16 oz and 32 oz. These bottles have a different valve then any other bottle. It has a tube with a wire spicket down the center. The wire has a flattened end that the rabbit pushes their tongue on to accuate.
Super Pet & Oasis now make topfill bottles with ball tube tips. Super Pet are available in 8oz, 16oz and 32oz. Oasis bottles are available in 12 oz.
Some rabbits will only drink out of bowls. We offer bowls and cups in metal, plastic and crockery. The metal cups come in 8 oz, quart and 12 oz lock-on. Plastic hook on cups are in 6 oz and 16 oz sizes. Smart crocks are available in 8 oz, 16 oz and 24 oz sizes. They are constructed of heavy-duty plastic with a screw-on cap to hold the cup on the cage or carrier. The EZ crock, heavy weight plastic crocks come in 5 oz, 10 oz, 20 oz and 40 oz sizes. These cups use a flat-clip-slide for attaching to wire carriers or cages. Crock-loc sizes are 10 oz and 20 oz and use a plate with a screw nut to secure it to the cage. These are also heavy weight plastic. We carry small & large twist crocks which twist into the bottom wire of your cage to hold them in place.
Stone crockery is a heavier kiln-fired bowl with 3 in, 4 in, 5 in and 7 in diameters offered. The depth of these bowls varies from approximately 1 ½" to 3". Crockery is harder for bunnies to turn over. We carry easy fillers, which attach to your garden hose, to fill bowls in cages. We have several lengths of fillers available.
We carry and used the Edstrom water system in our barns. We tell people all the time, that we would not be raising rabbits if it were not for this wonderful invention. It works on simple gravity or low-pressure techniques. Some use a good large bucket for the reservoir (we use 5 gallon plastic buckets) with a valve installed near the bottom edge and an intake float near the top (for keeping the bucket full). We used a pressure regulator and filter on our cages. It costs a little more but is just as effective and requires less maintenance than a bucket. The supply lines to the cages can be either ½ " PVC, 5/16" flex tubing or 3/16" flex tubing. It is important to supply all the water needed to any cage. Moms with a large litter of kits can drink a lot of water, especially during the summer. We had over 100 cages supplied with all the water they needed. We did not have time to fill bottles or bowls. It is easy to check water valves on cages by simply touching the valve. If rabbits can't get to water, they will not eat.
We've described all the different ways you can water your rabbits. You have do decide which method will work best for you. Good luck, BUNNYRABBIT.com