return to BUNNYRABBIT.com homepage

return to Edstrom order page
EDSTROM AUTOMATIC WATERING SYSTEM
pictures below
The pivoting stem design used in all Edstrom valves is easy to understand when you look at the cross sectional drawings of the valve below.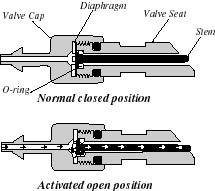 Cross section view in closed and open position
In the normal, closed position, the head of the stem is held securely against the O-ring by the elastic diaphragm, preventing water from flowing under the stem head and out the valve.
When the end of the stem is moved in any direction by biting, licking or pecking, the head of the stem pivots on the O-ring. One side of the head lifts off the O-ring and allows water to flow under it and out to the animal's mouth or beak.
When the animal releases the end of the stem, the elasticity of the silicone rubber diaphragm located behind the stem head pushes the head back to the closed position, stopping the flow of water.
The many advantages and benefits of this simple valve design.
Because a soft O-ring provides the water shut-off seal, the valves are extremely resistant to leaks. Dissolved minerals in the water (hard water and iron) do not cause the valve to leak as with other types of waterers.

However, we do recommend that particles in the water be removed by filtration.
The Edstrom valve can be easily disassembled for cleaning or replacement of parts.
The Edstrom valve is not sensitive to water supply pressure. It will operate with pressures as low as 1/8 psi and as high as 10 psi. At higher pressures the force required to actuate the valve increases. An operating pressure of 3-5 psi is recommended for easy operation by most species.
The pivoting head of the valve is held tightly closed by the elasticity of the silicone diaphragm, preventing possible backflow of water and contamination into the water supply line to the rest of your facility.
Local plumbing codes may require that you install an Auto-Air Break Valve at the point you connect your automated watering system to your domestic water supply. Use an approved device for this purpose.
A small droplet of water normally remains at the end of the valve after its operation. Animals and birds quickly locate this water, and in their efforts to drink it, move the stem, releasing more water to drink.

They train themselves to drink from the Edstrom Valve in no time at all.
Any other questions, please email us at bunnies@bunnyrabbit.com

click on pictures to see variflo and standard valves and to see how to setup your automatic watering system.

variflo valve standard valve valve on cage flex tube system PVC system