Breeding Board 11in x 14in #breedBoard
Allows user to record breeding information for 24 different animals at once. Headings include: date bred, dam, sire, palpate, due date, number born, and wean date.
$9.00
keep track of all your breeding



Like Cage Tags, the breeding board is designed to be written on with a permanent Sharpie marker. Then remove with Soy Solv cleaner.
NEW 3x5 inch Tag
Blue, Green, Orange, Pink, Fluorescent Pink,
Purple, Red, White, Yellow
SALE $.50 50 or more $.45 ea #CT35N
NEW Cage Tags are made of PVC
(same material as gift/credit cards)
this is not recyclable - click here for craft ideas
slides in 3inx5in cardholder

go here to order 3x5 cardholder
NEW #CT35Nblu
3x5 Blue
NEW #CT35Ngrn
3x5 Green
NEW #CT35Norg
3x5 Orange
NEW #CT35Npink
3x5 Pink
New
#CT35NPnkFN
Fluorescent Pink
NEW #CT35Npurp
3x5 Purple
NEW #CT35NRed
3x5 Red
New #CT35Nwht
3x5 White
New
#CT35Nyelo
3x5 Yellow
New
3x5 Blank
CageTag

#CT35N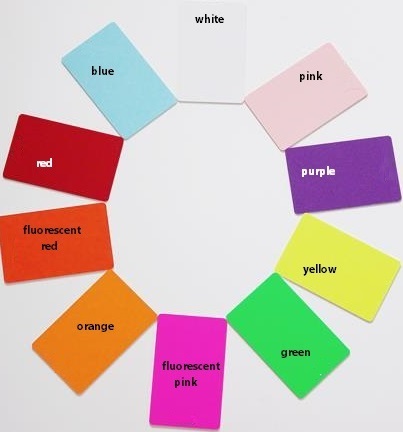 3x5 tags do not come with hole punch, picture is of the blank cage tags.
Show Carrier Tag
Show Carrier Tag
Show Carrier Tag - Discontinued
Green, Orange, Purple, Red, White, Yellow
SALE $.40 50 or more $.36 ea 2x3.5inch tag #CTcar
| | | | |
| --- | --- | --- | --- |
| | Carrier-Green | Carrier-Orange | |
| Carrier-Purple | Carrier-Red | Carrier-White | Carrier-Yellow |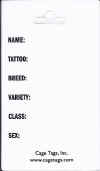 NEW Show Carrier Tag-2.12 x 3.37in
Blue, Green, Pink, Fluorescent Pink
SALE $.50 50 or more $.45 ea #CTcarBluN
NEW #CTcarBluN
Carrier Blue
NEW #CTcarGrnN
Carrier Green
New #CTcarOrgN
Carrier Orange
New #CTcarPnkN
Carrier-Pink
#CTcarPnkFN
Carrier
Fluorescent Pink
NEW #CTcarPurpN
Carrier Purple
NEW #CTcarRedN
Carrier Red
New #CTcarWhtN
Carrier White
New
#CTcarYeloN
Carrier Yellow
New
Carrier
CageTag

#CTcar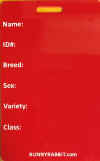 NEW Cage Tags are made of PVC
(same material as gift/credit cards)
this is not recyclable - click here for craft ideas
ID
Tag
ID Tag
ID Tag - Discontinued
Orange, Red, Yellow
SALE $.40 50 or more $.36 ea 2x3.5inch tag #CTid
| | | |
| --- | --- | --- |
| ID-Red | ID-Orange | ID-Yellow |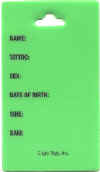 NEW ID Tag-2.12 x 3.37 inch tag
Blue, Green, Orange, Pink, Fluorescent Pink, Purple, Red, White, Yellow
SALE $.50 50 or more $.45 ea #CTidBluN
NEW #CTidBluN
ID Blue
NEW #CTidGrnN
ID Green
New #CTidOrgN
ID Orange
NEW #CTidPnkN
ID Pink
New ID #CTidPnkFN
Fluorescent Pink
NEW #CTidPurpN
ID Purple
NEW #CTidRedN
ID Red
New #CTidWhtN
ID White
New
#CTidYeloN
ID Yellow
New
ID
CageTag

#CTid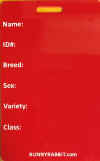 NEW Cage Tags are made of PVC
(same material as gift/credit cards)
this is not recyclable - click here for craft ideas
FOR SALE
Tag
FOR SALE Tag
FOR SALE Tag - Discontinued
Blue, Green, Orange, Pink, Purple, Red, White, Yellow
SALE $.40 50 or more $.36 ea 2x3.5inch tag #CT4s
| | | | |
| --- | --- | --- | --- |
| For Sale-Blue | For Sale-Green | For Sale-Orange | For Sale-Pink |
| For Sale-Purple | For Sale-Red | For Sale-White | For Sale-Yellow |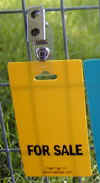 fluorescent pink ID tag pictured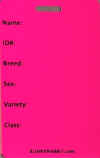 NEW For Sale
Fluorescent Pink
Breeding Tag
Breeding Tag
Breeding Tag - Discontinued
Blue, Green, Orange, Pink, Purple, Red, White, Yellow
SALE $.40 50 or more $.36 ea 2x3.5inch tag #CTbr
Breeding-Blue
Breeding-Green
Breeding-Orange
Breeding-Pink
SOLD OUT
buy New below
Breeding-Purple
Breeding-Red
Breeding-White
Breeding-Yellow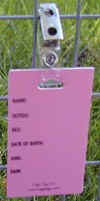 NEW Breeding Tag-2.12 x 3.37in
Blue, Green, Pink, Fluorescent Pink
SALE $.50 50 or more $.45 ea #CTbrBluN
NEW #CTbrBluN
Breeding Blue
NEW #CTbrGrnN
Breeding Green
NEW #CTbrOrgN
Breeding Orange
NEW #CTbrPnkN
ID Pink
NEW Breeding #CTbrPnkFN
Fluorescent Pink
NEW #CTbrPurpN
Breeding Purple
NEW #CTbrRedN
Breeding Red
New #CTbrWhtN
Breeding White
New
#CTbrYeloN
Breeding Yellow
New
Breeding
CageTag

#CTbr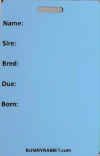 NEW Cage Tags are made of PVC
(same material as gift/credit cards)
this is not recyclable - click here for craft ideas

Blank
Tag
Blank Tag
Blank Tag - Discontinued
Orange, Red
SALE $.40 50 or more $.36 ea 2x3.5inch tag #CTblnk


NEW Blank Tag-2.12 x 3.37 inch tag
Blue, Green, Orange, Pink, Fluorescent Pink, Purple, Red, White, Yellow
SALE $.50 50 or more $.45 ea #CTblnkBluN
NEW #CTblnkBluN
ID Blue
NEW #CTblnkGrnN
ID Green
New
#CTblnkOrgN
ID Orange
NEW #CTblnkPnkN
ID Pink
New ID #CTblnkPnkFN
Fluorescent Pink
NEW #CTblnkPurpN
ID Purple
NEW #CTblnkRedN
ID Red
New #CTblnkWhtN
ID White
New
#CTblnkYeloN
ID Yellow
New
Blank
CageTag

#CTblnkN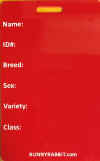 NEW Cage Tags are made of PVC
(same material as gift/credit cards)
this is not recyclable - click here for craft ideas
TAKE ME TO THE SHOW Tag
TAKE ME TO THE SHOW Tag
Yellow - Take Me To The Show Tag
Discontinued will be replaced by new 2.12x3.37inch tag
2x3.5inch tag #CTshowYelo
SALE $.40 50 or more $.36 ea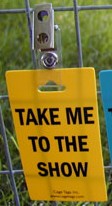 White - Take Me To The Show Tag
Discontinued will be replaced by new 2.12x3.37inch tag
2x3.5inch tag #CTshowWht
SALE $.40 50 or more $.36 ea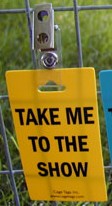 NEW Take Me to the Show Tag-2.12 x 3.37in
Blue, Green, Orange, Pink, Fluorescent Pink, Purple, Red, White, Yellow
SALE $.50 50 or more $.45 ea #CTshowBluN
NEW #CTshowBluN
ID Blue
NEW #CTshowGrnN
ID Green
New
#CTshowOrgN
ID Orange
NEW #CTshowPnkN
ID Pink
New ID
#CTshowPnkFN
Fluorescent Pink
NEW #CTshowPurpN
ID Purple
NEW #CTshowRedN
ID Red
New #CTshowWhtN
ID White
New
#CTshowYeloN
ID Yellow
New
Take Me to
the Show
CageTag

#CTshow



NEW Cage Tags are made of PVC
(same material as gift/credit cards)
this is not recyclable - click here for craft ideas
Strap Clip $.20
order 100 or more Strap Clip get 20% off
click here to purchase
pictured use above


4 inch Colored Cable Ties #ziptieColSm
$3.00 per 100


color may vary
7 inch Colored Cable Ties #ziptieColLg
$5.00 per 100


color may vary