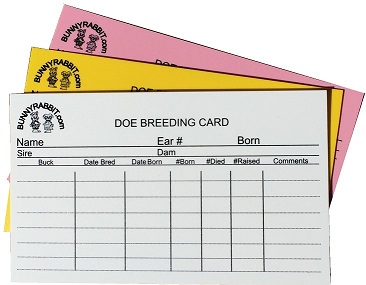 *DISCONTINUED* Hutchcard 3 inch x 5 inch
Reusable Plastic - White, Yellow, Pink #hutch-Plas
$ .95 10% discount on 100 or more $ .855
slides in 3inx5in cardholder




go here to order 3x5 cardholder
*DISCONTINUED* limited stock
Hutchcard 3x5 inch Reusable Plastic
made out of original cagetag plastic
!* Sale *! $ .70 each pack of 50 #hutchWht50
50 White 3x5 Hutchcard
#hutchWht50
$.70 each
SALE $35.00
50 Yellow 3x5 Hutchcard
#hutchYelo50
$.70 each
SALE $35.00
50 Pink 3x5
Hutchcard
#hutchPink50
$.70 each
SALE $35.00
Breeding Board 11in x 14in #breedBoard
Allows user to record breeding information for 24 different animals at once. Headings include: date bred, dam, sire, palpate, due date, number born, and wean date.
$9.00
keep track of all your breeding



Like Cage Tags, the breeding board is designed to be written on with a permanent Sharpie marker. Then remove with Soy Solv cleaner.
Sharpie Permanent Marker #sharpie
Fine Point, Ultra Fine Point, Silver Fine Point
| | | |
| --- | --- | --- |
| Fine Point $1.00 | Ultra Fine Point $1.50 | Silver Fine Point $1.50 |
Sharpie Fine Point Black Permanent Marker



Sharpie Ultra Fine Point Black Permanent Marker
finer line allows you to write more


Sharpie Metallic Silver Fine Point Permanent Marker


can be used on Purple or Red cagetags
NEW 3x5 inch Tag
Blue, Green, Orange, Pink, Fluorescent Pink,
Purple, Red, White, Yellow
SALE $.50 50 or more $.45 ea #CT35N
NEW Cage Tags are made of PVC
(same material as gift/credit cards)
this is not recyclable - click here for craft ideas
slides in 3inx5in cardholder

go here to order 3x5 cardholder
NEW #CT35Nblu
3x5 Blue
NEW #CT35Ngrn
3x5 Green
NEW #CT35Norg
3x5 Orange
NEW #CT35Npink
3x5 Pink
New
#CT35NPnkFN
Fluorescent Pink
NEW #CT35Npurp
3x5 Purple
NEW #CT35NRed
3x5 Red
New #CT35Nwht
3x5 White
New
#CT35Nyelo
3x5 Yellow
New
3x5 Blank
CageTag

#CT35N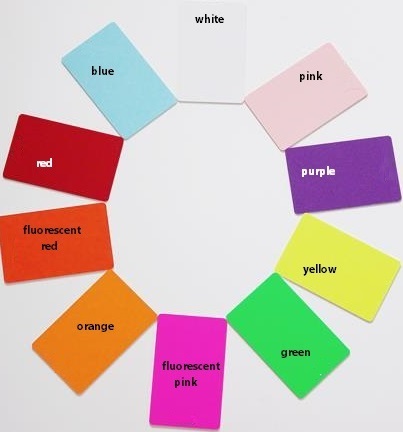 3x5 tags do not come with hole punch, picture is of the blank cage tags.
Show Carrier Tag
Show Carrier Tag

NEW Show Carrier Tag-2.12 x 3.37in
Blue, Green, Pink, Fluorescent Pink
SALE $.50 50 or more $.45 ea #CTcarBluN
NEW #CTcarBluN
Carrier Blue
NEW #CTcarGrnN
Carrier Green
New #CTcarOrgN
Carrier Orange
New #CTcarPnkN
Carrier-Pink
#CTcarPnkFN
Carrier
Fluorescent Pink
NEW #CTcarPurpN
Carrier Purple
NEW #CTcarRedN
Carrier Red
New #CTcarWhtN
Carrier White
New
#CTcarYeloN
Carrier Yellow
New
Carrier
CageTag

#CTcar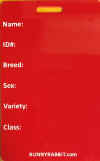 NEW Cage Tags are made of PVC
(same material as gift/credit cards)
this is not recyclable - click here for craft ideas
ID
Tag
ID Tag

NEW ID Tag-2.12 x 3.37 inch tag
Blue, Green, Orange, Pink, Fluorescent Pink, Purple, Red, White, Yellow
SALE $.50 50 or more $.45 ea #CTidBluN
NEW #CTidBluN
ID Blue
NEW #CTidGrnN
ID Green
New #CTidOrgN
ID Orange
NEW #CTidPnkN
ID Pink
New ID #CTidPnkFN
Fluorescent Pink
NEW #CTidPurpN
ID Purple
NEW #CTidRedN
ID Red
New #CTidWhtN
ID White
New
#CTidYeloN
ID Yellow
New
ID
CageTag

#CTid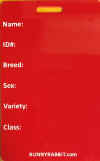 NEW Cage Tags are made of PVC
(same material as gift/credit cards)
this is not recyclable - click here for craft ideas
FOR SALE
Tag
FOR SALE Tag

NEW For Sale Tag-2.12 x 3.37in
Blue, Green, Orange, Pink, Fluorescent Pink, Purple, Red, White, Yellow
SALE $.50 50 or more $.45 ea #CTbrBluN
NEW Cage Tags are made of PVC
(same material as gift/credit cards)
this is not recyclable - click here for craft ideas
NEW #CT4sBluN
For Sale Blue
NEW #CT4rGrnN
For Sale Green
NEW #CT4sOrgN
For Sale Orange
#CT4sPnkN
For Sale Pink
NEW For Sale #CT4sPnkFN
Fluorescent Pink
NEW #CT4sPurpN
For Sale Purple
NEW #CT4sRedN
For Sale Red
New #CT4sWhtN
For Sale White
New
#CT4sYeloN
For Sale Yellow
New
For Sale
CageTag

#CT4s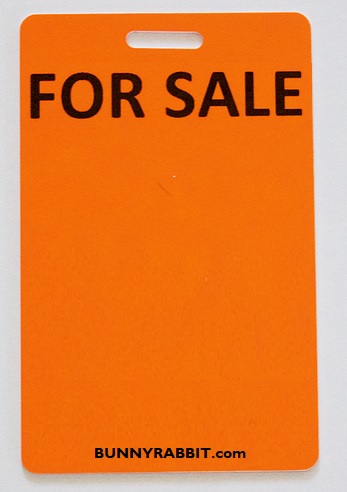 Breeding Tag
Breeding Tag

NEW Breeding Tag-2.12 x 3.37in
Blue, Green, Pink, Fluorescent Pink
SALE $.50 50 or more $.45 ea #CTbrBluN
NEW #CTbrBluN
Breeding Blue
NEW #CTbrGrnN
Breeding Green
NEW #CTbrOrgN
Breeding Orange
NEW #CTbrPnkN
Breeding Pink
NEW Breeding #CTbrPnkFN
Fluorescent Pink
NEW #CTbrPurpN
Breeding Purple
NEW #CTbrRedN
Breeding Red
New #CTbrWhtN
Breeding White
New
#CTbrYeloN
Breeding Yellow
New
Breeding
CageTag

#CTbr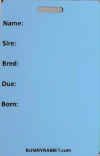 NEW Cage Tags are made of PVC
(same material as gift/credit cards)
this is not recyclable - click here for craft ideas

Blank
Tag
Blank Tag

NEW Blank Tag-2.12 x 3.37 inch tag
Blue, Green, Orange, Pink, Fluorescent Pink, Purple, Red, White, Yellow
SALE $.50 50 or more $.45 ea #CTblnkBluN
NEW #CTblnkBluN
ID Blue
NEW #CTblnkGrnN
ID Green
New
#CTblnkOrgN
ID Orange
NEW #CTblnkPnkN
ID Pink
New ID #CTblnkPnkFN
Fluorescent Pink
NEW #CTblnkPurpN
ID Purple
NEW #CTblnkRedN
ID Red
New #CTblnkWhtN
ID White
New
#CTblnkYeloN
ID Yellow
New
Blank
CageTag

#CTblnkN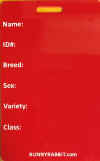 NEW Cage Tags are made of PVC
(same material as gift/credit cards)
this is not recyclable - click here for craft ideas
TAKE ME TO THE SHOW Tag
TAKE ME TO THE SHOW Tag
NEW Take Me to the Show Tag-2.12 x 3.37in
Blue, Green, Orange, Pink, Fluorescent Pink, Purple, Red, White, Yellow
SALE $.50 50 or more $.45 ea #CTshowBluN
NEW #CTshowBluN
ID Blue
NEW #CTshowGrnN
ID Green
New
#CTshowOrgN
ID Orange
NEW #CTshowPnkN
ID Pink
New ID
#CTshowPnkFN
Fluorescent Pink
NEW #CTshowPurpN
ID Purple
NEW #CTshowRedN
ID Red
New #CTshowWhtN
ID White
New
#CTshowYeloN
ID Yellow
New
Take Me to
the Show
CageTag

#CTshow



NEW Cage Tags are made of PVC
(same material as gift/credit cards)
this is not recyclable - click here for craft ideas
Strap Clip $.20
order 100 or more Strap Clip get 20% off
click here to purchase
pictured use above


4 inch Colored Cable Ties #ziptieColSm
$3.00 per 100


color may vary
7 inch Colored Cable Ties #ziptieColLg
$5.00 per 100


color may vary