Purge Automatic Sprayer Kit
$79.00 SALE $66
shipping wt 6 lb.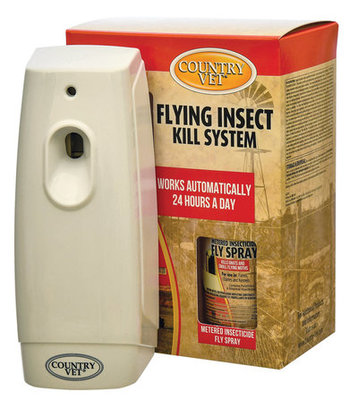 Automatic Flying Insect Control Sprayer Kit

#

purgeKit
Kills & repels mosquitoes, flies, moths and gnats 24/7 for a full thirty days - automatically!
contains automatic sprayer, 1 can Fly Spray (contains 0.975% Pyrethrins)
(2 D batteries required-not included)
additional purge cans can be purchased separately below
click here for info
Adam's Plus Flea & Tick Mist Plus
click here to order

Adam's Plus Flea & Tick Mist Plus- 16 oz #fleaSpray
INSECTICIDE, REPELLENT & DEODORANT
Kills Fleas, Lice and Ticks
Temporarily Repels Gnats, Flies, Mosquitoes
Contains 0.50% Etofenprox, 0.27% (S)-Methoprene and 1.75% Piperonyl Butoxide.
to kill fleas, lice & ticks on rabbits, dogs, cats, puppies, kittens & horses.
Also repels gnats, flies & mosquitoes.
Do not use on animals under 12 wks of age.
click here for info
DISCONTINUED
$18.50 SALE $15.00
shipping wt 2 lb.
click here to order

Zaps-It quart or gallon (odor digester)
Odor Digester & Stain Remover Eliminates the Source of Odors!
Not a Cover Up! ZAPS-IT ™ is a powerful odor digester and organic stain remover.
ZAPS-IT ™ dissolves and digests waste residues, stains and malodors caused by urine, feces, vomit, blood, food wastes and other organic matter. click here for more info