goto bunnyrabbit.com news
goto bunnyrabbit.com news volume 1 issue 4

Letters to Corey
VBF Protector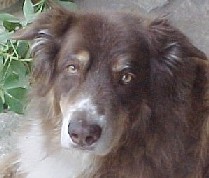 Dear Corey,
We enjoyed reading your comments in the VBF News, Volume 1, Issue 3. We agree wholeheartedly with your views on controlling dangerous problems for show rabbits. Some exhibitors bring their pets with them to shows. Most are leashed, but as you said, the threat and fear is still there.
James & Maura Billeaux
Denver, Colorado
Dear Corey,
Thanks for opening the discussion about smoking around show animals. We agree with your simple rules for keeping rabbits safe. Most show barns are usually insulated due to cold temperatures. Ventilation can be a problem at some shows. Keep up the good work.
William Becker
Elkhart, Indiana
Hi Corey,
I had no idea you possessed such a large vocabulary. I have met you on several occasions, but never expected to hear so much knowledge come from one dog. I hope to read some more commentary from your great newsletter.
Ken Kotara
San Antonio, Texas
Or you can email him at worms@bunnyrabbit.com